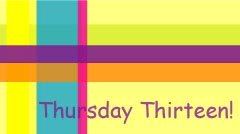 Thirteen of My Favorite Animals
1. Monkeys - not the big really ugly ones, the cute little ones people have as pets.
2. Koala bears - seriously one of the reasons I want to go to Australia someday. I just think they are so cute.
3. Tigers - I just think they are gorgeous.
4. Chihuahuas - call them yippy dogs if you want, but I have three and I love them to death (well actually they live with mom and dad now, but they are still my babies)
5. Panda bears - another gorgeous animal.
6. Meerkats - I've liked this since the first time I saw "The Lion King"
7. Pugs - I just think they are cute with their little smashed in faces.
8. Polar bears - gorgeous, the polar bear exhibit is my favorite at the zoo.
9. Tropical fish - They are so pretty. I love the tropical fish tanks at aquariums.
10. Lions - I've always been a fan of "Narnia." Just love Aslan, so when I see a lion, I think of that.
11. Piglets - realize I didn't say pigs. I just think piglets are so cute with their curly little tails.
12. Horses - they are so graceful, I just love to watch them run.
13. Baby hedgehogs - They are the cutest little things.
Next week I'll do my least favorites. Do you guys have a favorite animal?
Get the Thursday Thirteen code here!
View More Thursday Thirteen Participants