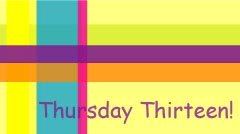 Thirteen Movies or TV Shows I Loved As A Youngster
1. Mr. Rogers - I didn't really care about the part where he visited people or anything, I thought that was kind of boring, but I loved the trolley and King Friday and all his loyal subjects
2. Fraggle Rock - I loved this one so much that I bought the first season on DVD.
3. Full House - "How rude!" is a statement I used for a long time! I also have these seasons on DVD.
4. Beauty and the Beast - Still one of my favorite movies to this day.
5. Aladdin - Also still a favorite
6. The Lion King - Loved it when the monkey hit Simba upside the head and said, "It doesn't matter, it's in the past!" Too funny!
7. Family Matters - I laughed and laughed at Urkel's antics (see prime time television used to be family appropriate!)
8. The Bluebird - An old Shirley Temple movie, two little children followed a bluebird and the picture went from black and white to color kind of like in the Wizard of Oz. They went in search of better parents only to find that they already had the best parents for them.
9. Rock-A-Bye my Baby - A Jerry Lewis movie where his friends triplets get left on his doorstep, funny and sweet!
10. Geisha Boy - Also a Jerry Lewis movie. There was a rabbit in this movie named Harry, and my brother always called the movie, "Harry"
11. Seven Brides for Seven Brothers - I've always loved musicals, and this has always been one of my favorites.
12. An American Tale (also the second one Feivel goes West) I thought the mice in these movies were so cute, but my favorite was the cat who made friends with the mice!
13. The Sword in the Stone - I loved how the boy became a fish and a bird, and I thought Mad Madam Mim was funny!
What are some shows or movies you remember from your childhood?
Get the Thursday Thirteen code here!
View More Thursday Thirteen Participants