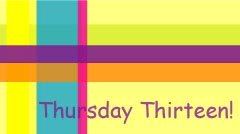 Thirteen Things I've Been Doing This Week
1. Working, gotta earn a living because I haven't found a millionaire that wants to support me yet! LOL!
2. Trying my hand at a little blogger design, not sure if I'll be any good at it yet, but it's fun to try.
3. Cooking, gotta stop eating out and spending so much money.
4. Going to church, love my church.
5. Spending time with my little brother before he goes off to school
6. Watching my sister cry because my brother is going off to school (it makes me sad too, but I probably won't cry a lot until he's actually gone, right now I'm just spending time with him and having fun times!)
7. Trying to make sure I have a roommate for when my brother leaves because I really don't want to live alone even though I could afford it.
8. Watching the Lord of the Rings movies with my brother, these are our favorite movies, and we try to watch them together every so often, since he's going away, we wanted to watch them.
9. Starting the 90 Days Through The Bible again, last time I got messed up in the middle because my dad got sick and life went kind of hectic.
10. Practicing the song that I have to sing at my best friend's wedding on Saturday.
11. Making arrangements to get my hair done for Saturday.
12. Jumping for joy because gas prices are going down a bit.
13. Being glad for the rain because we really needed it!
Get the Thursday Thirteen code here!
View More Thursday Thirteen Participants