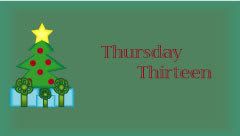 Thirteen Things Tracy and I Did to Decorate Our House for Christmas
1. Do you remember a few weeks back where I told you about the giant Buddy the Elf cutout that was standing in my bay window? Well, he is now taped to my front door trimmed in pretty green garland. (This was Tracy's work)
2. One of my dad's deer heads that was left hanging above the mantle now has a green garland and red Christmas bow, bow-tie thing going on. (Also Tracy's work)
3. There are candy dishes full of candy (Tracy again)
4. There is a Christmas tree in front of the bay window with about 2500 white lights on it (This one was me)
5. There are Christmas knick-knacks on the mantle below the deer. (This was half me/half Tracy) One of these knick knacks is a picture of our cousin Scott last year at Christmas time wearing my nephew Trace's "My First Christmas" Santa Clause hat. It's a really funny picture in a Christmas frame.
6. There is also garland hung from the mantle with lights strung through it. (My doing)
7. There are lots of Snowman and Santa candles placed around the house. (1/2 Tracy, 1/2 Me)
8. A glass nativity scene is setup on the bar with garland and lights surrounding it.
9. A Christmas village is on our entertainment center on the shelf above our TV. (Thanks to Tracy's mom for the loan of the village!)
10. There are wreaths hung on several walls, making the place look festive.
11. There is another nativity scene on my dresser, and another one on a bookshelf. After all Jesus is the reason for the season, so you can never have too many nativity scenes.
12. There are lights strung from the canopy on my bed. This is one of my favorite things.
13. And last of all there is a Christmas wall hanging that spells out JOY, a bit of what I hope to spread this Christmas season to all that I see!
Merry Christmas everybody!!