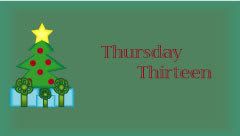 Thirteen Random Thoughts I've Had This Week
1. Aren't dogs supposed to be the ones that chase cats? This thought went through my brain when my cat proceeded to chase my new roomie's dog through our house.
2. Why is it that one drop of rain turns every NC driver into a brainless person who knows nothing about driving a car? Thought this while driving to work this morning in the rain.
3. If sweating is good for you, why do you feel so icky when you sweat? I thought this while walking on the treadmill yesterday.
4. Why can't they come up with some invincible materiel that can't be scratched to make CD's with? Thought this when my favorite CD started skipping on my favorite song!
5. Why don't they give receptionists training classes on how to pronounce the names of the people that they have to page? I thought this when the receptionist paged a lady in my department and pronounced her last name "Aarvark" when her last name is actually "Admire."
6. Why isn't there a chute from my desk to the receptionist's desk? I thought this when I took like the 10th art disc of the day down the stairs to the receptionist. (But hey going up and down those steps is good excercise, so I shouldn't complain.)
7. How come that vegetable plate only cost me $4.27 tax included when the prices is supposed to be $4.99 before tax? I went to a restraunt to get a veggie plate twice this week, and both times the cost with tax was less than the advertised price without tax. I'm not complaining though!
8. Why don't cubicles have doors with locks? I thought this when my co-worker came into my cubicle with yet more artwork to take downstairs.
9. Why would the Dr. Quinn Medicine Woman DVD be in the case for Aladdin? I thought this yesterday when I was home sick looking for a movie to watch. I just watched Dr. Quinn because I hadn't seen it in forever!
10. Why haven't we come up with some technology that helps you dress yourself in the morning without thinking about it? I thought about that this morning while I was trying to find some clothes for the day when I really just wanted to lay back down in the bed and go to sleep!
11. For that matter, why haven't we come up with something where we can just think about where we want to be and be there?
12. Why is it that number 12 is always the thing that I get stuck on when I'm making these lists?
13. How come God decided to bless me with such an adorable niece and nephew? I thought about this when I was looking at this picture: